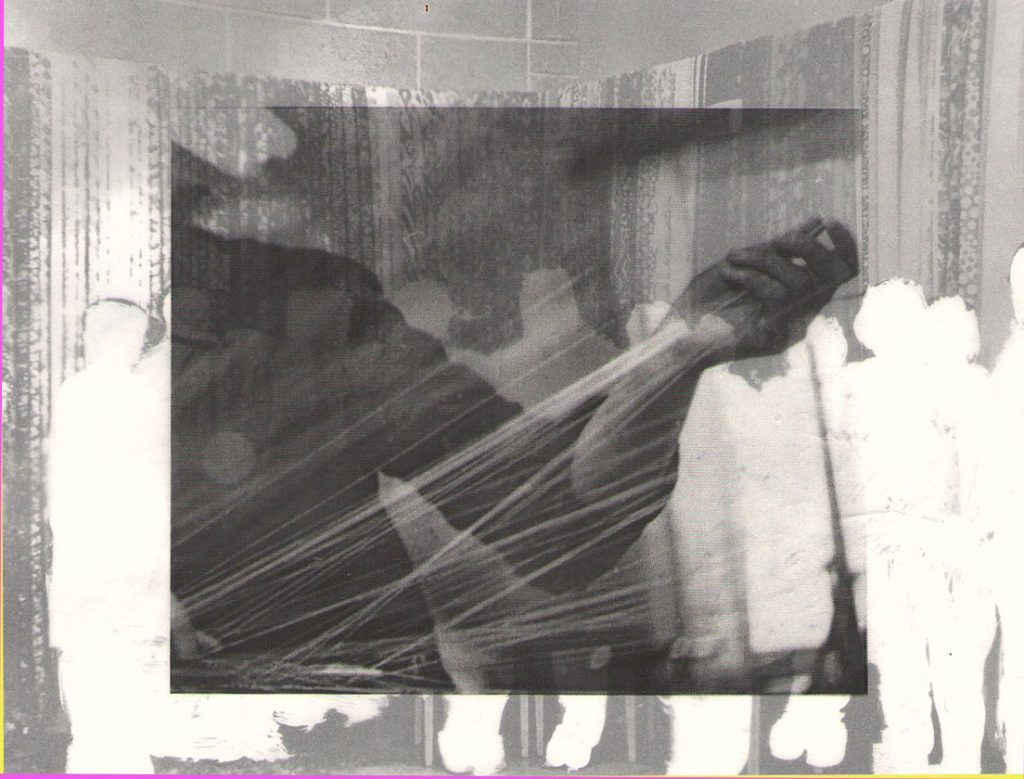 My practice revolves around the topic of archives and traces. Mapping personal stories, memories, and questions into visual and tactile narratives, for me, has always been the means to interpret and question the inheritance of the past, as well as find ways in which 'counter-memories' or 'counter-stories' can embody the space of silence.
During my research at the State Silk Museum in Tbilisi, my attention was drawn to the pile of patterns in the archive with the name 'Unknown author'. This pile emerged in the process of sorting, analyzing, and tracing the authors (designers, colorists, artists, etc.) behind the patterns preserved on the plates, and placing them under different folders. 'Unknown author' struck me as an interesting metaphor representing all the individuals who participated in the Soviet collective production. Just like many other important elements of the Soviet inheritance, they also disappeared without traces.
Next to the vibrant and colorful textile samples produced in the second half of the 20th century, there were piles of hand-bound books of accounting and other documents kept at the museum. Each book was documenting the budgets and expenses of silk production and its infrastructure, the quantity and quality of production, the location where it was performed or spent, etc. Each procedure was described in a separate document. The paper size and color differed. The templates were printed in Russian and filled in by hand in Georgian. One could look at those as pattern books of that time, preserving detailed accounting to the point of absurdity.
What attracted me to work with this archive was its fragmented nature, its fragility towards interpretation, and its visual complacency as a form – sample books, patterns, fragmented narratives, display, design.
Textile often functions as a grid in my projects. I use fabric to mark or record traces of certain events from a personal perspective, turning it into a temporary platform or a space to convey one's own story and resist disappearance. For me, each new project is an opportunity to meet or get acquainted with a group of people who were personally affected or marked by certain political and historical events, and mostly remain underrepresented or overlooked. Such encounters help me to broaden the context in which the retracing of embodied memories can be interpreted and positioned today.
My wish was to create an object that would offer a space to question the topic of an unknown author. Without information about them, we lose an opportunity to learn and reflect on a specific period in our history, hence, on our own biographies.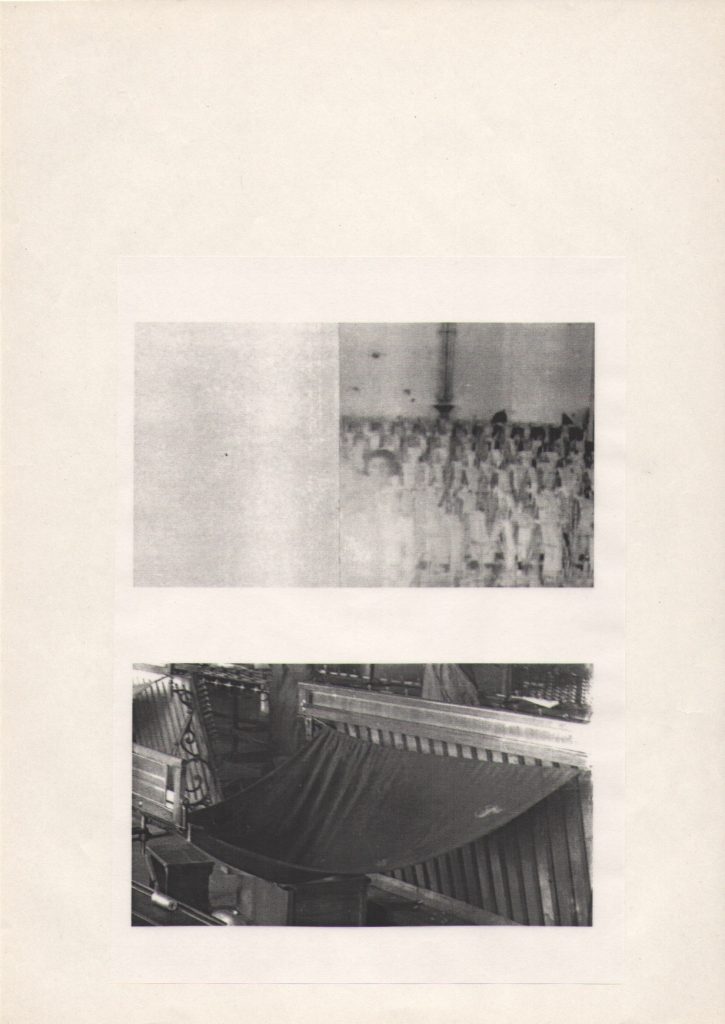 In my practice, my major source of inspiration is an image and the modes of its production. In my work, an image can be understood as the frame through which we look at things and interpret them. Therefore, constructing an image in relation to a particular question or a problem, for me, is the way to expand this 'frame' in time/space and offer the space for observation. The aim of my work is to turn image production into a participatory process.
The work, which was created as an outcome of my research period at the museum, is based on the materials found at the museum – a wooden display box, a book of accounts from 1977, and a sentence in Georgian (I demand a voice) abstracted from an interview with Elene Sepiashvili, a former employee of Tbilisi Silk Weaving Factory. The lightbox displays two layers overexposed on top of each other – a photo of the book of accounts unfolded and a pattern created with a sentence.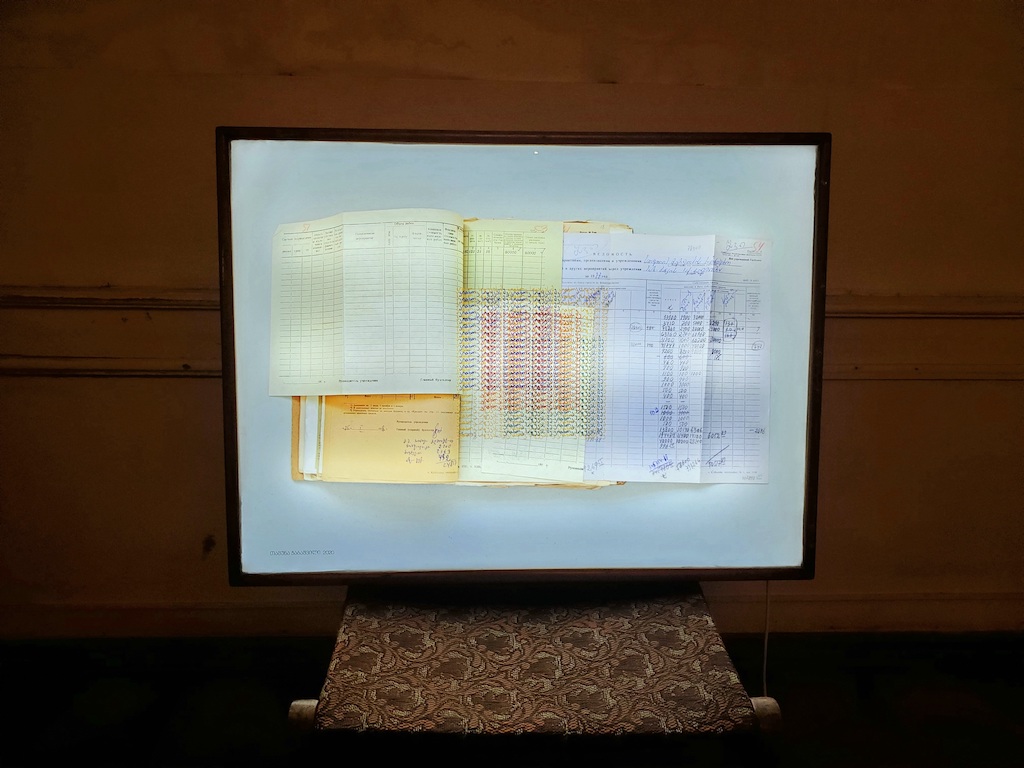 Author: Tamuna Chabashvili
Research and production in the framework of the support residency program "Outside the Cocoon: How to Present Art Publicly During the Pandemic?"
Support for this program is provided by the State Silk Museum through a grant from CEC ArtsLink's Art Prospect program.