Intervention
This intervention was between physical and online spaces. It was not an exhibition or its replacement in any of these formats. It was a certain reaction to the situation and changes that the pandemic of 2020 caused, which also affected the project and the exhibition. During 15.10.-15.11.2020 changing banners appeared on the reconstruction fence outside the museum. They featured visual material connected to several contemporary artworks from the project. Online visitors could find more information about the works, as well as about the objects selected by the Silk Museum in response to the works.
---
A Long, Unending Road
Nino Zirakashvili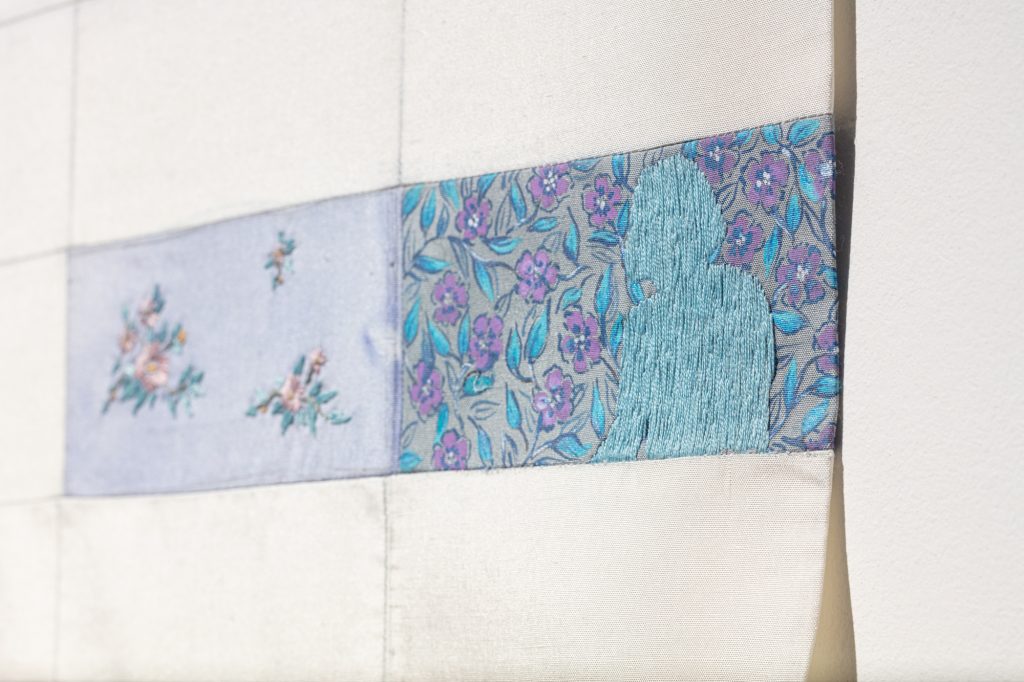 The feminization of labor emigration from Georgia starts after the collapse of the Soviet Union. The 90s came with a socio-economic crisis, and a lack of employment that is still one of the biggest challenges of the country. Because of labor market inequality, many women are forced to migrate abroad. Despite their experience and higher education, they agree to a hard-work outside their home country. Many of them have been living undocumented in various countries for numerous years. These migrant women from Georgia mostly work as cleaners, carers, or domestic helpers. They financially support their family members, relatives, and friends in Georgia. Being undocumented and hard working conditions hinder their social lives and integration. Because of this, their existence is often invisible to the societies abroad, as well as at home.
The work combines information I have collected from and about them. The long, unfinished quilt includes different texts and visual material connected to their emigration. It is an abstract representation of "invisible women's" stories, an endless social issue in Georgia.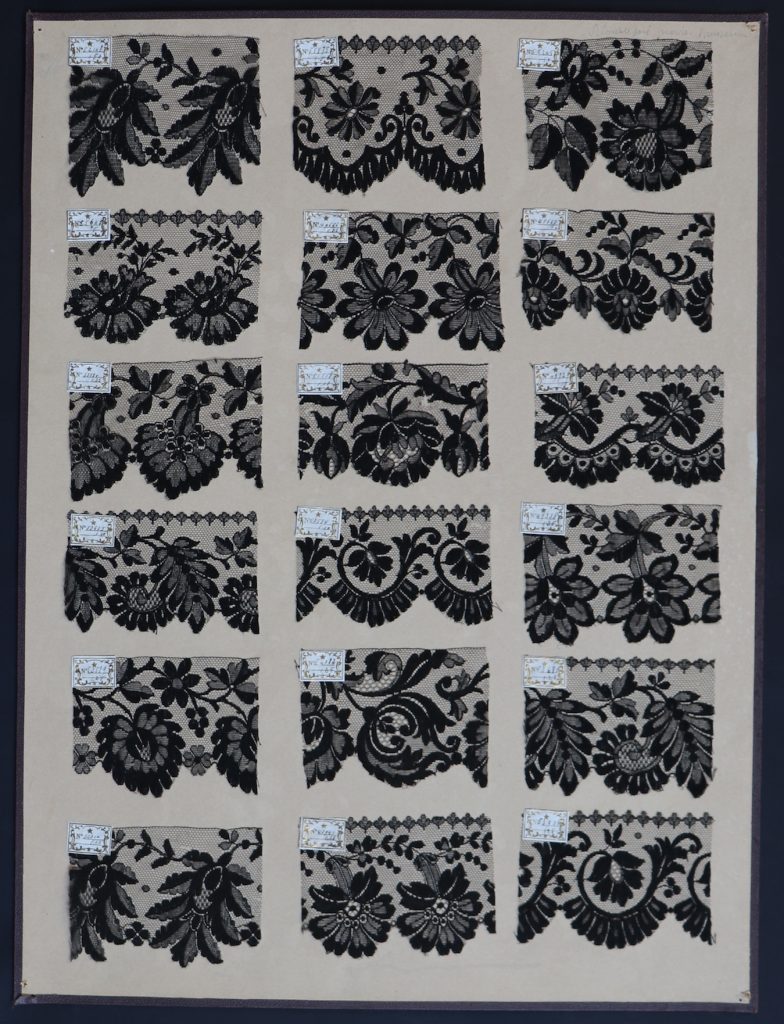 As a response to the work, we selected an item from the Silk Museum's lace collection belonging to the end of the 19th century. Created on the Leavers machine, these neat products with various designs were created by Rosa Klauber Manufacture in Munich, Germany. The work that was started by Jewish weaver Rosa Klauber, developed into a family business for generations. However, due to the Nazi persecution, they were forced to migrate and started their work in the USA, which still runs as Klauber Brother, Inc. by their descendants.
Laces from the 19th century constitute one of the most unique collections of the Silk Museum, keeping rare and diverse material of the Klauber Manufacture. Together with the specifics of production, the silk lace – this visually impressive, light artifact at first sight – presents one woman's work and the story of a family, and it also connects to the hard moment in history.
---
Ruins Not Yet Built – Solidarity Blueprint
Katharina Stadler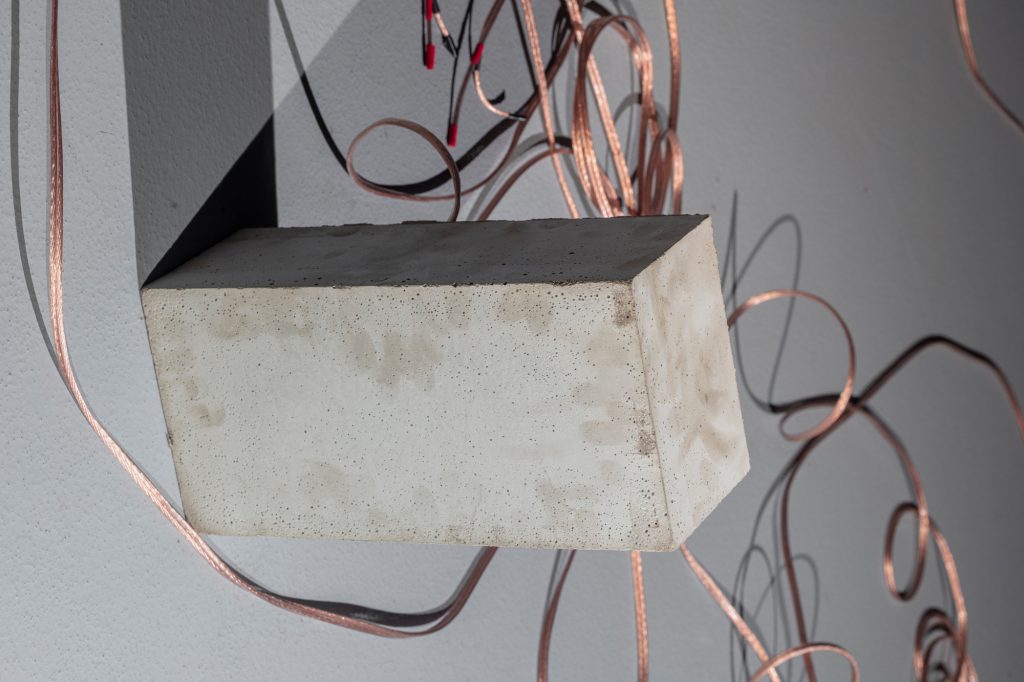 In our contemporary post-visionary dilemma of social envy and nationalistic tendencies, the question arises how to think both a present and a future based on solidarity from within a system of endless inequalities. I have been tackling this question based on 20th century science fiction novels from Central Europe.
In these texts, a future – as either utopia or dystopia – has once been envisioned. A future, which today belongs to a long gone past.
This past, thought of time to come, is imagined as a past of our future. Hence, through examining possible future ruins, the sound installation Ruins Not Yet Built – Solidarity Blueprint tries to expose structures, which both in the past and in the future past could and can lead to barriers of solidarity conduct and social togetherness.
ALL THE HORRORS [REAL OR IMAGINED] AS BLUEPRINT
ALL THE RUINS AND/OF THE FUTURE [REAL OR IMAGINED] AS BLUEPRINT
THE CENTER OR CENTRAL [REAL OR IMAGINED] AS BLUEPRINT
FOR A UNIVERSE CONTINUOUSLY EXPANDING
THERE IS NO CENTER OR CENTRAL
THERE IS GRAVITY
AND SOUND DESPITE GRAVITY
AND MOVEMENT OF SOUND DESPITE OBSTACLES
THERE ARE CONSTANT WHISPERS
CENTERED AROUND NOTHING BUT THEMSELVES
AND THERE ARE VOICES
CHALLENGING PHYSICS
WHISPERS AND VOICES
CONCRETE AND CONCRETELY
DISTURBING
VOICES
IN LINGUISTIC PATTERNS
STRUCTURES
GRIDS OVER GRIDS
OVER GRIDS
OF MAZES AND LABYRINTHS IN RUINS NOT YET BUILT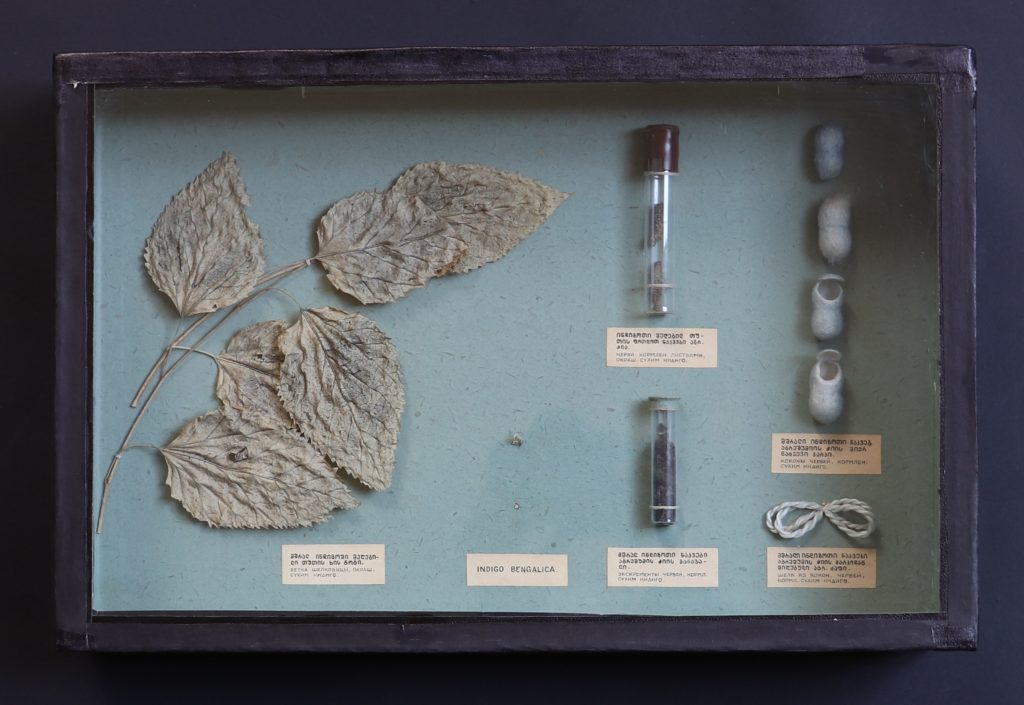 As a response to the work, from the Silk Museum's collection, we selected an item that shows the results of an unusual scientific experiment. At the end of the 19th century, one of the important parts of the Caucasian Sericulture Station was a dying laboratory, where silk threads were actively processed through chemical and natural dyes. Feeding silkworms with mulberry leaves that were covered in different dyes, in this case indigo, can be considered as a radical and at the same time, an unsuccessful experiment of the laboratory. It can also be seen as a utopian attempt of a scientific vision for the more effective use of resources in the industry. After being placed in hot water to reel thread, the pale blue cocoons almost lost color. The items placed inside the museum box today represent an experiment conceived in the past for the future.
---
Eyes and Barriers (Metamorphosis)
Sandro Sulaberidze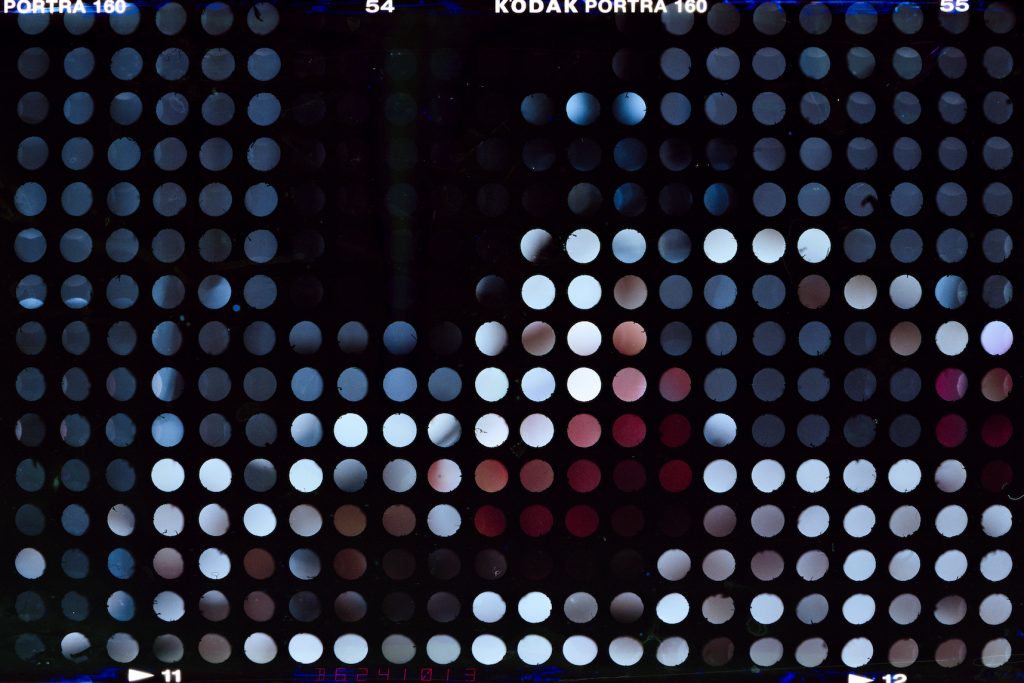 "Gregor's serious wound, from which he suffered for over a month (since no one ventured to remove the apple, it remained in his flesh as a visible reminder), seemed by itself to have reminded the father that, in spite of his present unhappy and hateful appearance, Gregor was a member of the family, something one should not treat as an enemy, and that it was, on the contrary, a requirement of family duty to suppress one's aversion and to endure—nothing else, just endure."
Franz Kafka, The Metamorphosis
A long-dead body of a bug was found in Berlin last summer. Remains from Charlottenstrasse, covered in concrete dust and spider web, were examined and treated.
Successful chemical fixation of the premortem image was made on a surprisingly well-preserved left eye retina. Surely, the creature's optogram is not sharp, but it delivers vast color information.
On reconstructed footage, an object with distinct, vibrant color (green, yellow, or red) is clearly seen…
The work is about perception, based on a fictional sequel to The Metamorphosis by Kafka. It is an infinite loop of image sequences shot with two different types of cameras. They replicate different ways of seeing: human vision in black and white, and the insect eye in color.
This is about the process of alienation, as seen from personal and external perspectives. Questioning how perception turns into a barrier, and how subjectivity potentially materializes into something that affects many people.
Two opposing devices observe the same event – the transformation of a piece of fruit. The filmed apple comes from abandoned gardens, divided by the barbed wire fences of borderization. This fruit comes from a real area of conflict in Georgia, where people live under constant terror and threat. Russia's occupation line constantly moves and swallows territories, family farms, gardens, and houses.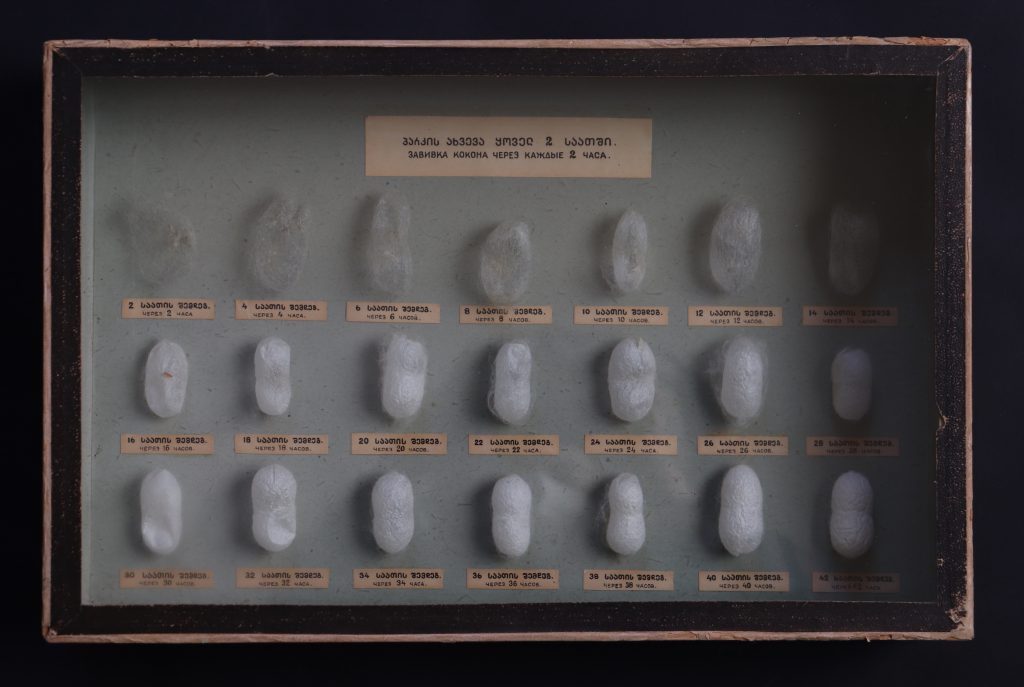 As a response to the work, we selected an item from the Silk Museum's silkworm biology collection. This museum box, made during the late 19th century and early 20th century, displays cocoon spinning in stages. If it was a video, we would be able to observe the spinning process from the beginning until the end, in the rhythm of a silkworm, or by speeding it up. However, here this process is shown with pauses – a cocoon is transparent at first and it is gradually covered with a thread until it becomes a solid surrounding – making us think about the creation of cocoons, as well as this object. Beyond the famous metaphor for butterflies/moths leaving a cocoon, based on this object we can think about the process of transformation, its stages, and perspectives of seeing.
---
"We had seen a tiger"
Verónica Lahitte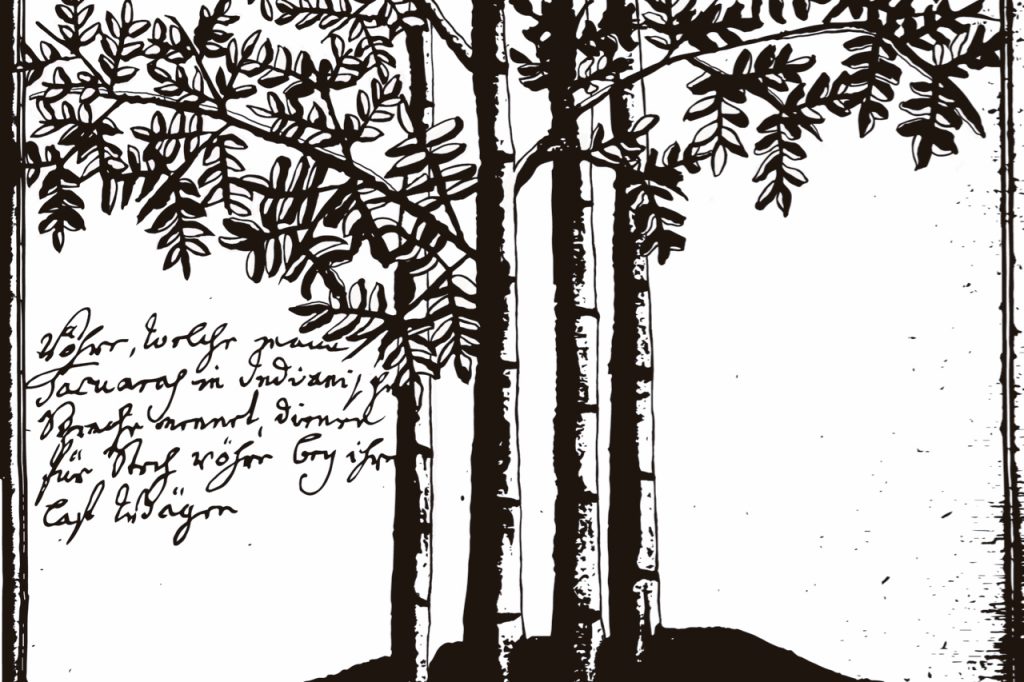 The project takes as its starting point the drawings and texts that Florian Paucke (Silesia, 1719) made between 1749 and 1767 during his stay in what is now called Argentine territory. During his trip, he produced 33 drawings of plants, 33 drawings of animals, and 86 drawings portraying the daily life of the moqoit indigenous community. The codex, which is stored in the archive of Stift Zwettl in Austria, is one of the most extensive portraits of human and non-human life in that area. "We had seen a tiger" delves into the material produced by Paucke to contrast the missionary's gaze with a present that has been called for annihilation during the formation of the nation-states. "We had seen a tiger" examines and responds to an ancient (and current) utilitarian way of approaching the world: a fundamental part of The New Dictionary of Old Ideas.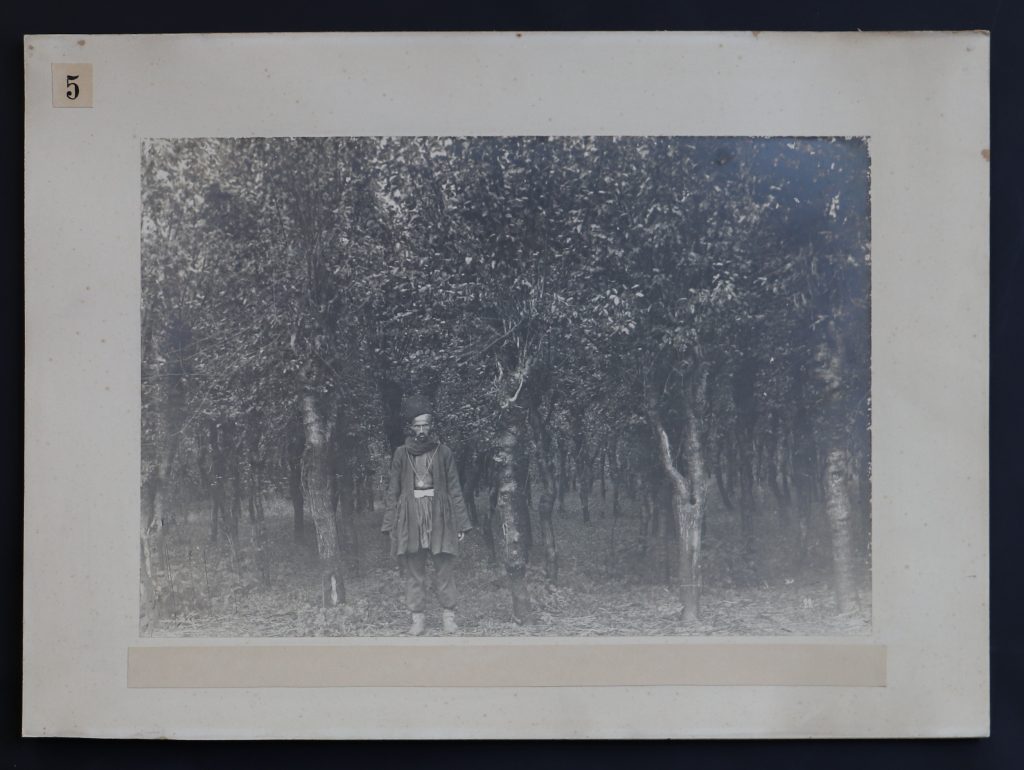 As a response to the work, we selected an item from the Silk Museum's photo collection. During the late 19th century and early 20th century, the Caucasian Sericulture Station was organizing expeditions in the region, collecting diverse material about folk methods of silk making. Photographer Konstantin Zanis, one of the members of the expeditions, captured life and silk traditions in different parts of the region. Today, these photographs constitute a significant part of the museum's photo collection.
When observing ethnographic visual material, it is important to look beyond what is directly present on them, see many layers and contexts, and interrelation between documentary and artistic approaches. With such a perspective, we can observe the topics of "center" and "periphery" in the earlier photographs preserved at the museum. In the photos of mulberry nurseries, we often see a single person standing there. As if here the guardian of the trees is depicted, standing at the nursery and directly looking at the camera, the eye that arrived there to capture the environment.
---
Mind How You Dance: A Central and Eastern Europe Monument Project
Irmina Rusicka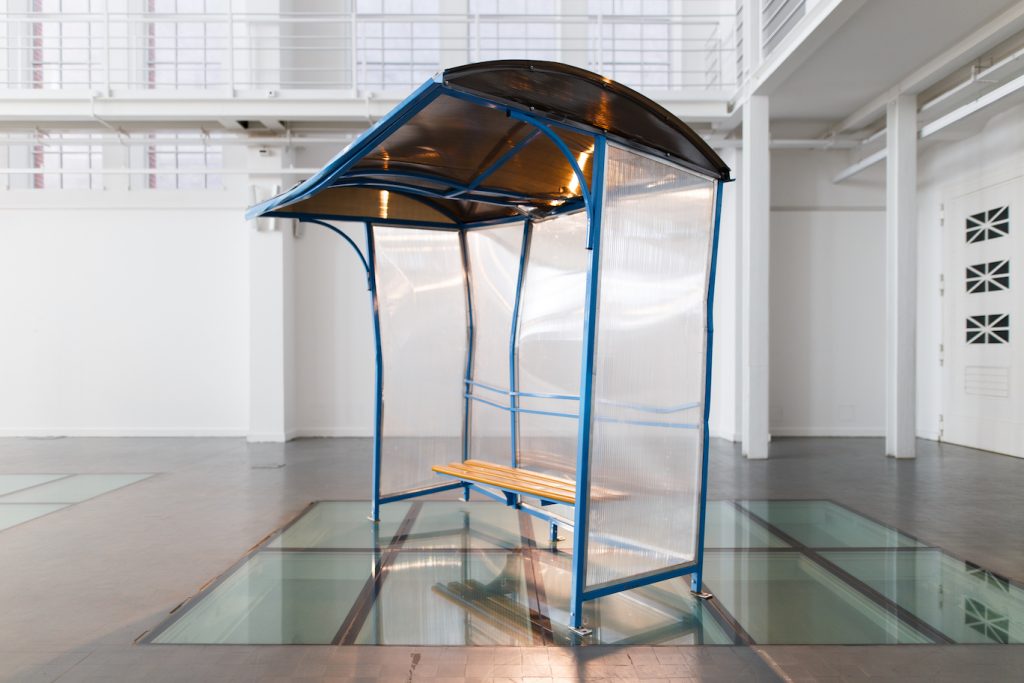 Monuments as objects or as social events exist in only two instances: when erected and when dismantled. As observed by Robert Musil, between these moments the monument becomes invisible. Despite how spectacular the monument looks, over time it becomes ordinary, grows into the fabric of the place and solidifies itself on its pedestal in a vulgar way.
A bus stop is something certainly not commonly regarded as a monument. Likewise, a no refurbished bus stop, put up in one of the self-made centers of Europe, would be considered a monument. Though ambitious to represent this peculiar region, the author does not want to remind us of yet another unsuccessful modernization project. Along with the promise of the end of History and dashing Westernization, we have economic immigration, nationalist tendencies and the decay of local industry. In spite of Fukuyama, History has not ended, unlike bus connections between county towns.
A playful exploration into the meaning of the monument can be discovered in Rusicka's project. We can deliberate on the monument's form and state of being, try to give it a utilitarian function, or discuss the concept of an anti-monument. However, a more important focus of the installation is the monument's role in commemorating defeat, or, more optimistically, paying homage to unfulfilled promises which still bear leftover hope. Exactly like everyone waiting for the bus, at a bus stop, in a place called Nowhere.
Text by Aleksy Wójtowicz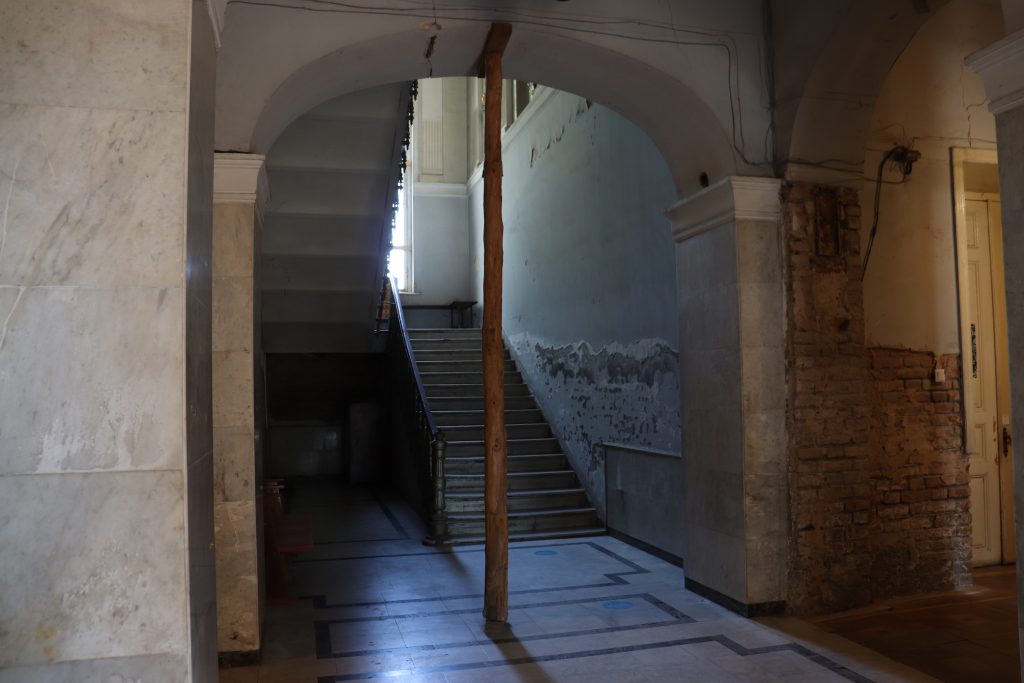 As a response to the work, at the Silk Museum, we selected not a museum object, but an element inside the building that has been attracting visitors' attention for many years now. In 2019, during The New Dictionary of Old Ideas residency, Irmina Rusicka also paid special attention to this detail.
It's a wooden column that was placed to support the arch after the 2002 Tbilisi earthquake. This is how it became an "integral" part of the museum's main entrance, and instead of the constructional support, has been declaring, with absurd straightforwardness, the inevitability to renovate the building. The museum's rehabilitation works commenced in 2020. After this process is completed, this detail should not be here anymore. However, the column (or registering the story) may become an artifact, or even a kind of a monument, which responds to the complex history of the Silk Museum while being in a long state of expecting rehabilitation.
---
Texts of artworks provided by artists. Text about Irmina Rusicka's work by Aleksy Wójtowicz; translation from Polish into English by Stan Baranski. Proofreading by Glynis Hull-Rochelle.
The text of Sandro Sulaberidze's work contains a quotation from The Metamorphosis by Franz Kafka, a translation from the German by Ian Johnston, Malaspina University-College Nanaimo, BC.,1999.
Texts about selected museum objects by the State Silk Museum.