What Is Textile Telling Us? This was the name of an online educational program that the State Silk Museum implemented in March 2021. The workshop focused on personal stories regarding textiles, which also connect to collective memory in different ways.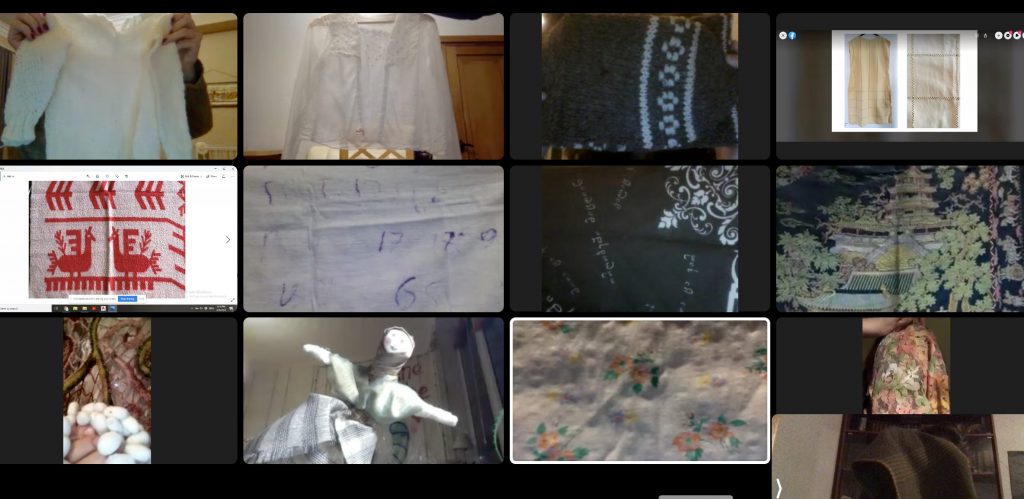 During four meetings, participants of different ages and professions attended lectures and were involved in working sessions organized by the museum.
The lectures were conducted by Mariam Shergelashvili (Exhibition Curator at the Silk Museum), Ana Shanshiashvili (PhD Art Historian), Sophia Tabatadze (artist), and Nino Kvrivishvili (artist). The talks concerned ethnographic, artistic, technological, and other aspects of textiles. You will see adapted versions of these lectures on the Silk Museum's blog.
In the framework of the workshop, participants were presenting their ideas and following group discussions, they worked on their personal stories about fabrics. Textiles/stories that had been stored, or forgotten in everydayness, were becoming more meaningful step by step. These personal experiences showed various directions of collective memory as well. It is like those textiles that were carefully stored somewhere, some time ago for sewing something in the future, or for passing it on to generations. In the framework of the workshop, we referred to this as "the stories kept in a suitcase."
The participants worked on diverse themes such as industrial products of the Soviet time, textile perception, archetypes and designs, speed of production, and ethical questions. The pages of this blog post will gradually present personal attitudes, memories, or imaginations, which resonate with stories that textiles might remind us about our lives. At the same time, these narratives point out the diversity presented in the initial title as a question, which requires rethinking according to a context.
Curated by Data Chigholashvili and Mariam Shergelashvili
The program was implemented by the State Silk Museum through a grant from CEC ArtsLink's Art Prospect program.